Pointing & Painting - Watermill Blog
9th to 30th March 2010
The run up to our Grand Opening in May means we are busy pointing up stonework and brickwork and painting a few bits that have suffered in the winter.
When we first started to work on the mill and its surroundings we had no experience of using traditional materials.
One result of this inexperience was that this winter's frosts caused some damage to the mortar we had used in the stone wall opposite the waterwheel.
We had mixed lime mortar with soft builders sand instead of sharp sand and also made the mix a bit weak.
The result was a pile of flaked mortar at the bottom of the wall where the frost had broken off the surface layers. That wall was a big learning experience at the time but we are all a bit older and quite a lot wiser now so we soon had a good lime mortar mix made and Jonathan made short work of raking out and pointing up.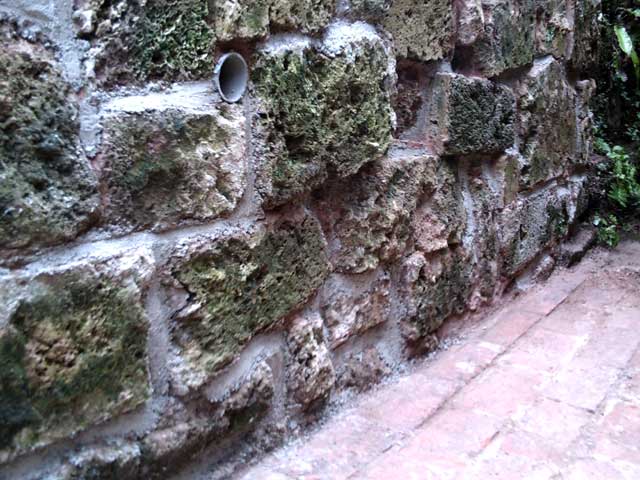 Painting was the next job on our list, in this case the grill that covers the PTO shaft as it crosses the alley between  the mill and the stable.
This was primed and spray painted when it was first made but this has not stood up to the traffic and we decided to  give a good coating of bitumen based paint.
Elsewhere, signs have been fixed to the gate and to the stable so that passing visitors are told about this web-site and our opening arrangements. 
Work is going forward on providing more permanent lighting in the stable and we are waiting for delivery of some low voltage lights that can be put inside the mill to make the machinery more visible to visitors.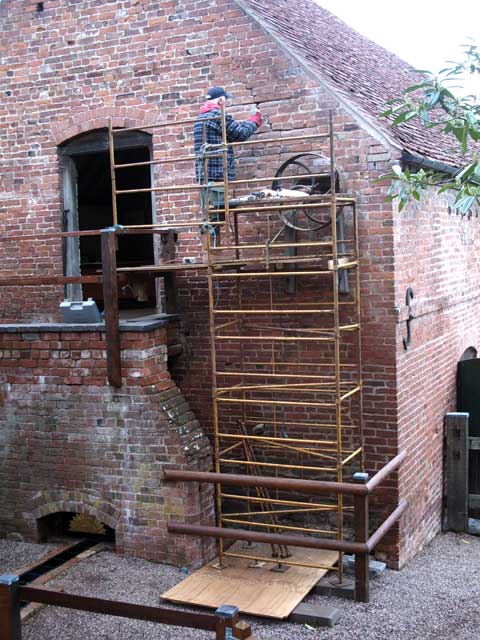 There is one pointing job that was not a result of winter weather, just that we have been putting it off.
It took the best part of a day to erect a borrowed scaffold tower by the hay-loft steps just to be able to reach the part of the wall that needs the work.
John can be seen in the picture chasing out the old mortar in preparation for inserting Helibar reinforcement and re-pointing.
We also took the opportunity to measure up round the pulley wheel so that we can build a copy of the belt cover that used to be fixed to the wall. Apart from the old fixing brackets there is nothing left of this cover but we do have.
The next time we meet at the mill it will be April and nearly Easter. The temperature outside is 3 Celsius and it is  threatening to snow. It must be nearly summer and the motorsport season.
Go to the next Watermill Blog entry
Go to the previous entry before this pointing story
Learn how to Support Us
Return to our Home Page