Guard Rails - Watermill Blog
5th May 2009
A delivery of timber this morning was the signal to start constructing permanent guard rails around the machinery in the stable, but not until some more limewash had been applied to the walls.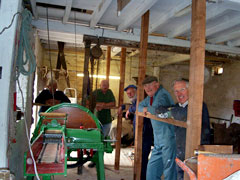 Somehow Kim, Finton, Bob, Colin and Martyn managed to erect five vertical posts and four horizontal rails without falling over each other.
Of course the height of the rail had to be tested to see if it was the right height, as  you can see from the picture.
The bottom part of the framing will be filled in with weld-mesh to keep little fingers away from the Victorian machinery, which was built in a era when telling children not to go near the machines was enough to keep them away.
We are going to open the mill to visitors this coming Sunday, 10th May  between 11 a.m. and 4 p.m. This is the National Mills Open Day, and although we are not included in the publicity  material we felt that our repairs are sufficiently complete to let us display our work. If the guard rails aren't complete by then we will rope off the area.
Jim and Richard worked on more repairs inside the mill, the back boards above the upstream flour bin.
The original boards were probably elm wood and very badly attacked by woodworm. The replacements are made in oak  to exactly the same dimensions as the originals.
The work is not quite complete. We need to fit two iron  hooks to support a sack to catch the flour. We have a single example left above the downstream flour bin so we will make copies of that and fit them.
Our first attempt at producing wheat flour last week was taken away by Max, who then tried to bake a loaf of bread with it. The experiment was not a success, producing a hollow crust with a lining of quite tasty dough about the consistency of putty. The wheat we are using is not suitable for making bread flour so we were not surprised at the failure and Max doesn't think his bread maker has suffered lasting damage.
We ground more of the same wheat into flour on Monday when we worked the waterwheel for the benefit of spectators and competitors during the lunch break in competition on Monday. Some of that flour was made into  scones later in the day, reportedly with much more success than the bread.
One of our supporters is a  retired baker and he is hoping to find a source of good bread wheat for us to try. In the meantime he suggests we stick to baking scones and soda bread that need less gluten in the flour. 
Go to the next Watermill Blog entry

Go to the previous entry before this guard rails story

Learn how to Support Us

Return to our Home Page