Gates - Watermill Blog
3rd March 2009
The weather decided to remind us that winter is not yet over so the team met on a raw morning and decided to do  indoor jobs if possible.
John dodged the worst of the rain showers to finish re-laying the brick paving  outside the stable, smoothing over the site of the supposed water trough. The paving is smooth but not flat as it had to be laid over the foundations of the stable wall. It does look much better and is much less likely to trip anyone up.
Kim and Jim finished the first of the new gates to go in front of the mill, a job that kept them under cover inside the stable workshop.
While Jim put the finishing touches to that gate Kim enlisted Richard's help to make a  start on the second half of the pair.
By close of play the six mortices in the uprights had been cut and all the pieces prepared. Much quicker than the first one.
Richard also made a gate but it only took a few minutes. Just a simple board that fits in a slot in the side of the grain chute.
The far longer part of the job was to clean out the chute that comes down from the top floor, the  garner floor, of the mill.
It was blocked with old damp grain and a lot of dust and rubbish including a  cigarette packet that originally contained ten Will's Woodbines.
There was also a sheet of metal nailed over the hole through the floor from the days when the bins were used to keep pheasant chicks.
With the chute now clear and the original sacking re-fixed to the bottom as a guide the only thing stopping us from trying out the  stones is a lack of something to grind.
Martin, Colin and Headley worked on the PTO shaft. The pulley under the steps needed to be moved slightly and re-secured at one end and the bevel gear at the other end was also re-located to give a better engagement with the pit gear.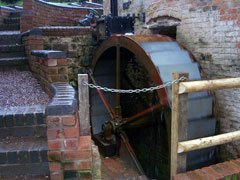 Headley also got involved with the third gate to be worked on today.
Finton had provided a length of chain, enough to put two strands across the steps into the waterwheel pit.
The chain is fastened to an eye at one end and drops over a hook at the other. Headley used his gas torch to form both the eye and the hook and Finton fixed it all in place.
The final member of the team, Tony, continued his landscape work.
Go to the next entry after this gates story

Go to the previous Watermill Blog entry

Learn how to Support Us

Return to our Home Page