Gate Valve - Watermill Blog
12th March 2009
The big gate valve that controls the penstock has been leaking all through the winter, and now the weather is getting milder it seemed like a good day to investigate.
The leak was near the top of the assembly so we could dismantle the valve without draining the mill-pool.
The picture shows Headley cleaning the joint surfaces that have been leaking.
It was a four man job, with Martyn and Colin as well as Headley getting involved and Richard watching.
Old gasket material was removed and sealing compound applied to the two surfaces. The valve was re-assembled, a job that is requires good muscles.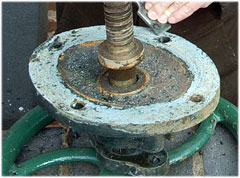 Bolts were carefully tightened and the sealing compound oozed gently from the joint. Everything looked fine until we tried to turn the gate valve to try it under pressure.
It took the combined efforts of Headley and Al Rayner (who is in danger of becoming an honourary Dibnah) to open the valve, and shut it again.
After some  thought and discussion we realised that the flange that you can see in the closeup was being clamped between the two sections of the casing. The gasket that we had removed had been providing the necessary clearance.
We then had a hunt for suitable gasket material. We either had large enough sheets but too thin or thick  enough but too small. The we cast our net wider and found some boot liner in one of the wrecked cars used for marshalls' training. Right thickness and plenty of it.
A new gasket was cut from this material and fitted with copious amounts of waterproof grease. Once again, bolts were carefully tightened, making sure that the joint went together evenly. This time it was easy to turn the valve on and off and the leak seems to be cured as well.
While all this was going on Jonathan and Bob carried on with pointing up the brickwork of the stable and John repaired an area of brickwork inside the stable. Tony spent the morning with a spray pack on his back, treating  weeds around the mill and the courtyard buildings.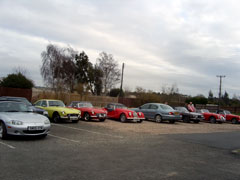 At lunchtime the discussion was about the previous day's trip. As a break from watermills and their restoration we had a Dibnahs' Day Out or perhaps a Millers' Meander. Starting from Colin's we drove a circuitous but very attractive route to a pub for lunch.
Colin and Mrs Colin provided coffe and bacon butties at the start, John had drawn  up excellent tulip diagram route instructions and the finish was at a pub recently re-opened under the management of one of Max's sons.
The weather was kind, dry and sunny, the route was interesting and provided stunning views from the edge of the Cotswolds and the Four Alls at Welford on Avon provided an excellent lunch. The pub looked very smart, having only re-opened on the 6th March after being flooded out by the River Avon.
Go to the next Watermill Blog entry

Go to the previous entry before this gate valve story

Learn how to Support Us

Return to our Home Page