Coping Bricks Put to Use
10th April 2007
The coping bricks that arrived last Thursday are already being put to good use and as you can see from the picture they look just right.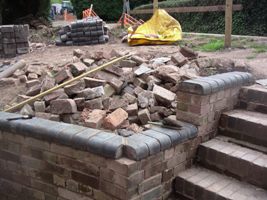 This warm and sunny Easter Tuesday saw a small team gather at Shelsley Watermill, namely Martyn, John and Richard. Colin and Headley worked off-site in the morning and arrived just after lunch.
As usual the day started with Richard mixing mortar for John who then started laying the coping bricks. Richard then brought the digger round from the barn and removed the lump of soil that was in the way of the steps that we need to build down by the waterwheel pit. This meant that the digger had to work its way up the slope past the waterwheel and proved to be a bit challenging for Richard's vertigo. Concentrating on the digging and ignoring the drop into the wheel pit got the job done.
Martyn spent some time on liaison tasks with the other teams around the site and general catching up after his short holiday and then disappeared to collect the last few parts for the Stag.
Colin and Headley brought a new supply of steel buckets and back plates for the waterwheel having spent the morning setting up a template for drilling the many holes in the back plates. Unfortunately the webmaster left soon after they arrived so there is no news of what progress they made with fitting the new bits in the afternoon.
Up at the mill pool the Court House team are making good progress with rebuilding the dam wall. Working out the levels was a bit of a challenge and the amount of tension required to stretch a building line for this length proved to be too much for the line but the problems have been overcome. The talk is of allowing the pool to fill in a couple of week's time to check for leaks or other problems, and the way these guys work it looks as though this is a real possibility.

Go to the next entry by clicking here.

Finished reading about coping bricks? Click here to see the previous article.

Leave the Shelsey Mill Blog and return Home.