Brickwork - Watermill Blog
2nd April 2009
After two and a half years of the project we are still finding brickwork that needs repair.
The picture shows John pointing out the defects in the end wall of the stable.
There are a number of places were there is no mortar at all between bricks and they can be lifted out. In places it looks as though the laws of gravity have been suspended but John is making good progress with making things much more secure.
If it seems a bit odd that we are only just finding these brickwork problems it is because they are in the inside walls of  the stable and have been inaccessible until recently due to the amount building equipment we have had to store.
John was helped today by Dave who proved to be a good man with a trowel.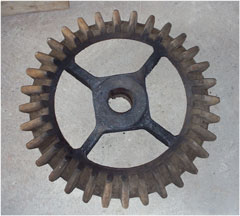 Elsewhere, Colin, Martyn and Headley removed the bevel gear from the overhead drive shaft for the downstream pair of millstones.
We are hopeful that we can either find a matching gear or get a new one cast. This would  allow us to re-create the overhead drive that used a portable engine parked outside the mill to drive the stones in  place of the waterwheel.
This 20th century adaptation is believed to be unique to Shelsley Watermill and  we are keen to re-create it. One of the team members has already volunteered his vintage tractor to power the drive belt.
When he wasn't taking photographs, drinking coffe or generally loafing, Richard removed rusty nails from the parts of the downstream tun that we are going to re-use. By the close of play he had got all eight of the oak 'knees' that make the corners of the tun ready to be used.
We have been very lucky up until now in finding parts and materials that we needed, often getting them free or at very little cost from supporters of our project. As a result we now have a watermill that is capable of processing grain, on one pair of stones at least, as well running the chaff cutter and the root shredder.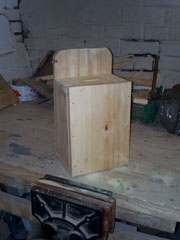 Before we can officially declare the mill open to visitors we do need to put some safety measures in place. The belt driven machinery needs to be protected by weldmesh cages to keep little fingers out of the moving parts, for  example. This is going to need a fair amount of weldmesh and steel to support it, at a cost we have yet to determine but probably considerable.
In the hope of helping the Society's funds, Dick has built a Donations Box. When this is finished it will be placed prominently by the front door of the mill and we are hopeful that visitors will take the hint.
For those readers who can't visit the mill in person we have now got the facility to accept donations via PayPal's secure servers. Just click on the "Donate" button and follow the instructions.
Thankyou if you have made a donation. If not, don't worry there will be plenty of opportuinities in the future!
Go to the next Watermill Blog entry

Go to the previous  entry before this brickwork story

Learn how to Support Us

Return to our Home Page