Brickwork and waterwheel splints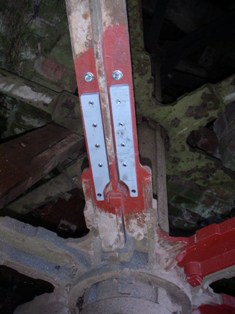 Work on the walls and the waterwheel moved forward a little way on Tuesday, although we only had a small group of workers. We did have visitor from Australia who assured us that our efforts are followed on these pages.
John continued to repair and rebuild the wall above the sluice pipe that has been so badly damaged by tree roots. This is slow work because the wall has to be dismantled until a firm foundation is established, then the bricks have to be cleaned up and re-laid.
This particular wall probably dates from the end of the 19th century and was built from more regular bricks than some of the earlier building. Before the bricks can be re-used we have to clean off the old lime mortar and this is not an easy task. Occasionally one of us will help John out by cleaning off a few bricks but it is not a job anyone does for very long at a stretch.
A different John travels some distance to join in the work and only makes an appearance about once a month. This Tuesday he made an excellent start on clearing the bank to one side of the front steps, stripping away the weeds and levelling the ground behind the retaining wall.
While this was going on at the front of the mill Headley was finishing off fitting the splint he has made for the broken spoke. As you can see this looks good and solid now it is bolted up.
Richard was all set to carry on chipping scale and rust off the waterwheel but the compressor went on strike. Alternative methods of cleaning up were tried but proved to be either ineffective or too much like hard work or both. At least John got a little more help with cleaning off bricks.

Go to the next entry by clicking here.

Seen what we've done to the waterwheel? Look for other posts.

Leave the Shelsey Mill Blog and return Home