Watermill Blog -  Window Repairs
22nd January 2008
We have a newcomer to these watermill blog entries today as we were joined by Jonathan for his first taste of voluntary work. Although this is the first time he has joined us at the mill his is a familiar face at Shelsley Walsh.

There was plenty of scope for confusion with John, John and Jonathan on the team, joining Martyn, Colin, Headley and Richard.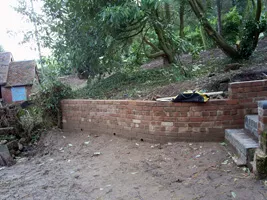 The last blog entry promised a picture of the finished wall that has kept John D busy for so long.

All he had to do today was to remove the protective sheeting from the top, exposing his work to the camera.

That's about it for bricklaying at the moment so we will have to explore John's other skills.

Most of the team spent the day in the hay-loft, replacing the old decayed boards with new ones. The main part of the loft is made up of four bays, one of which was re-boarded last week. A second was finished by lunchtime today and a start was made on the third.
The bays are formed by large beams across the stable joined by wooden joists. The picture gives some idea of the size of the beams and also shows two broken joists.

The joists are dovetailed into the beams and the replacements are made to fit in the same way. Replacing these two will the first task on Thursday. We will be glad to get rid of the plank propping the one joist up because it is right in the middle of the dinner table.

John D and Richard investigated one of the windows on the middle floor of the mill. We have already decided that these windows will be repaired and not replaced as they are mostly in quite good condition.
ohn worked from a ladder to remove the glass and then to free the frame from the brickwork. A rope was then tied to the frame so that we could lower it carefully to ground level.

Close examination of the frame provided some surprises. The horizontal glazing bars are metal and seem to be original. Also the whole frame is made in softwood.

This is different to the windows on the other side of the mill that are made of oak with ornate wooden glazing bars. Mind you, that side faces the Court House so was visible to the farmer and his visitors.

The bottom rail of the frame is badly decayed and we have carefully removed it to use as a pattern to make the replacement. Fortunately this isn't too complicated, being a rectangular section with three mortices for the uprights and a rebate for the glazing. The tenon at the bottom of the central upright had decayed so we have inserted a piece as a replacement.

Before we left for the day we tacked some plywood over the window opening to keep the worst of the weather out. Hopefully the next watermill blog entry will describe how we refitted the frame.

Go to the next entry by clicking here.

Go to the previous Watermill Blog entry

Learn how to Support Us

Return to our Home Page