Watermill Blog -  PTO Work
26th February 2008
It was mild and sunny when the team assembled this morning and work got under way with a minimum of delay.

Kim had arranged a supply of timber to complete the repair of the stone floor in the mill and took advantage of the sunshine to bring it to the mill by lowering the roof on his MG. It didn't take him too long to complete that repair work so he made a start on making a frame for the small ground floor window.
Colin, Headley and Jonathan worked together to get the PTO pulley out of the pit below the hay-loft steps.

After the struggle to free the wheel from its shaft last week, actually lifting the pulley from the pit proved to be quite easy.

In the background of this picture you should just be able to make out John preparing to replace the window frame in the large ground-floor window.

This proved to be a bit more of a job than any of us anticipated and John ended up spending the day rebuilding the wall below the window as the brickwork proved to be held together by damp dust. Maybe the window will get re-fitted on Thursday.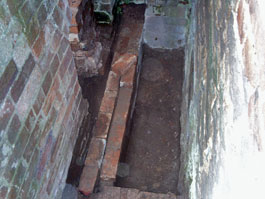 Jonathan volunteered to repair the brickwork lining of the pit that the pulley came out of. This was, after all, the reason we decided to remove the pulley in the first place.

Colin kept him provided with mortar and advice and by the end of the day the whole thing was looking much safer.

We were not sure what the effect of bricks falling onto the pulley when it was working would be, but we were all sure we didn't want to find out from experience!

While all this was going on outside, Richard was inside the workshop making the barred screen to go with the barred window. This involves making eighteen mortice and tenon joints and is proving to be quite a challenge to someone who last had formal training in woodworking in 1959.

Progress is slow, but there are signs that the job might be finished some day.

That's about it for the watermill blog, why not check out the link below to see how YOU can help to support our work.

Go to the next Watermill Blog entry

Go to the previous Watermill Blog entry

Learn how to Support Us

Return to our Home Page