Watermill Blog -  New Tun
22nd July 2008
After a lot of talk and even more thought this watermillblog can report that a start has been made on constructing a new tun for the upstream pair of mill stones.
The tun is the box that encloses the stones and also supports the grain hopper and shute. The original is far too fragile to use, very dry and worm-eaten, so it will be saved for display and a copy made for use.

Richard finally got stuck minto the construction this morning and soon had eight boards cut to the right shape for the sides.

The fillets that reinforce each angled join take a bit longer to make but two were completd in the afternoon, with a third well on the way after Martyn and Colin experimented with ways of roughing them out.

Before they came to Richard's aid Colin and Martyn had been making a wooden bearer for one of the PTO shaft bearings. They made good progress but couldn't finish the job because we don't yet have the bearing blocks back from being machined.

Bob carried on the good work with his paintbrush, applying undercoat to the last of the bare wood and top coat in a few other places. The outside of the mill is now looking well cared for without being "over-restored". It is supposed to be a working farm building after all, not a theme park attraction.

John and Jonathan worked in the full heat of the sun, extending the steps a bit further towards the roadway. One of the many subjects discussed around the lunch table was how we are going to cap the walls alonside these steps. We had some very nice double bullnose coping bricks donated to the mill which have capped one side of the steps but we need to match these for the other side of the steps.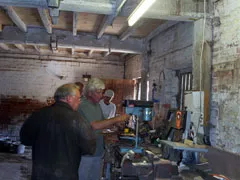 Headley and Kim spent the day shaping the steel splints that we are going to use to brace the great spur gear.

The idea is to sandwich the worm eaten gear wheel between steel plates without disturbing the old bolts and ironwork.

In practise this means cutting clearance holes in the steel plates for each old bolt head. A two inch tank cutter in the pillar drill and lots of patience seems to do the trick but it is not going to be a quick job.

Finally we can also report on some success last Thursday. The sack hoist windlass was turned by waterpower after Colin and Bob completed the fettling of the wooden cogs. With the wheels turning the windlass was dropped into engagement and worked smoothly, another first for we don't know how many years, at least eighty maybe more.

Go to the next Watermill Blog entry

Go to the previous Watermill Blog entry

Learn how to Support Us

Return to our Home Page