Visitors - Watermill Blog
21st - 28th May 2009
As work begins to wind down the number of visitors is increasing even though we haven't declared the watermill  finished.
The team has met on the usual Tuesday and Thursday pattern but most of the work has been finishing off. Bob has nearly completed the lime-washing of the stable, with only the area above the root-shredder  still to be done.
Machine guards are now in place around the chaff cutter and partially around the root  shredder. These are made from steel mesh fixed to timber frames and are designed to keep fingers away from the drive belts and moving parts.
Inside the mill the repair of the furniture above the downstream pair of mill stones has continued. The tun is complete and the horse remounted. Effort is now concentrated on the grain hopper, similar to the upstream one but with a recess formed to clear the overhead drive shaft.
The spring growing season has meant a lot of work for the gardeners, keeping the grounds around the mill looking good. We were very pleased to see team member Derek back with us today after a long break. He spent his day removing dead ivy from some of the trees.
We have two bookings for visits in June and we have also had small groups arrive while we have been working. Most of them have been impressed by what they have seen and have shown their  appreciation via the donations box.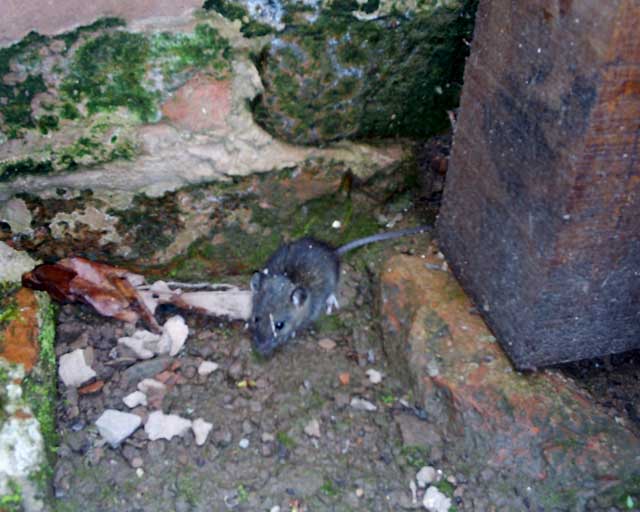 We did have one surprise visitor today. We were all sitting down having an afternoon break when Derek said "Look what we have here"<br><br>Sitting at the foot of a fence post was a small grey mouse. It didn't seem too worried about our presence and eventually retreated into the waterwheel pit where it disappeared into a hole under the steps.<br><br>Richard stayed quietly by the hole with his camera and was rewarded with this picture after a couple of minutes.
Go to the next watermill blog entry

Go to the previous entry before this visitors story

Learn how to Support Us

Return to our Home Page