Spade work on the front entrance, work on the bearing plinth and the gears.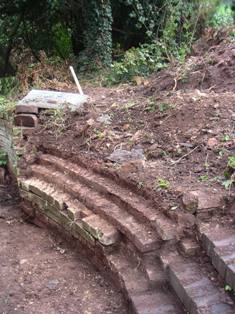 Max always seems happy when he is holding a spade, so he carried on the clear-up around the front door of the mill. The wall that was damaged by the roots of the laurel bushes was thicker than we expected and the lower part is quite solid so he has cleared down to the sound brickwork and stopped there.
The next job in this area will be to build the wall back up, using the original bricks as far as possible. John seems quite keen for us to find another bricklayer as he is the only one of us to admit to having any relevant experience.
John was, of course, bricklaying on the bearing plinth. At least, he was between showers some of which were quite heavy. All the new laid brickwork is now sheltering under plastic sheeting so no pictures just yet. Still, we do have the borrowed cement mixer to lessen the spade work.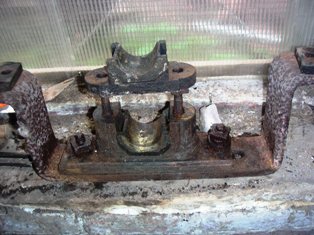 Inside the mill Colin and Hedley finished the task of freeing the PTO gear from the pit gear. The inner bearing was dismantled from the hanger and found to be in amazingly good condition. The picture shows the hanger and bearing block fully dismantled and placed on the windowsill specially to have it photo taken.
On the other side of the pit gear the stone nut that was left soaking in penetrating oil shows absolutely no signs of moving on its boss. It now has a plastic collar around the boss that has been filled with a really aggressive penetrating agent, Coca Cola! If that doesn't work we will have to resort to heat but we will have to be more than a bit careful with blowtorches and the like in such a confined space. Most of the things that make it a confined space are made out of wood!.

Go to the next entry by clicking here.

Enough spade work? Look for other Shelsley Mill Blog posts.

Leave the Shelsey Mill Blog and return Home