Newly Slated Roof
27nd March 2007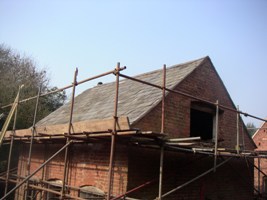 The headline for the day has to be that the roof is now securely slated. The builders fixed the last slates in place during the afternoon so we now have a waterproof roof. The roof timbers were in good condition so the job went quicker than some had expected. If you look very carefully you can just make out a builder's head visible above the ridge of the roof.
The volunteer team was made up of Martyn, Colin, John, Headley and Richard. We divided up to the jobs that have become regular. John carried on rebuilding the wall that extends from the front of the mill round to the side of the waterwheel pit. Richard mixed the mortar for him and did a bit of general labouring around the site.
Martyn removed the decayed frames from the two gable end windows and set about making good the brickwork around the apertures. Hopefully we will get the replacement frames in before the builders need to remove the scaffolding as these are the highest two windows in the building.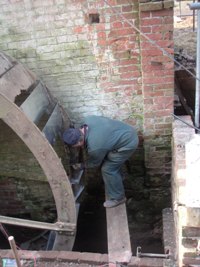 Colin, Headley and occasionally Richard, worked on the waterwheel. The thought put in last week has paid off because we managed to fit three more new buckets in place today. We are putting the new buckets in at intervals around the wheel to maintain rigidity and this proved to be just as well. We were rotating the wheel to a new position, an exercise that takes a fair bit of effort, when some debris in the pit fouled the wheel. The wheel must weigh a couple of tons but it jumped half an inch off its bearing before it settled back. Scary!
The picture shows Headley cleaning up the seating for a bucket after burning out the remains of the old bucket with a gas torch. The plank bridge is slightly more secure than it looks and does keep the workers feet dry. We suspect that the socket in the mill wall was cut when the iron wheel was fitted for this very purpose.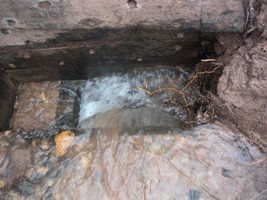 The Court House team are cleaning the hundreds, possibly thousands, of bricks that came from the mill dam before they start rebuilding. The spell of dry weather means that water levels are low enough to see the stop valve at the bottom of the pool and get a good idea of the work that needs to be done here. The final picture is a close up of the plug-hole!

Go to the next entry by clicking here.

Happy the roof is slated? Click here to see the previous article.

Leave the Shelsey Mill Blog and return Home.