Shelsley Mill - 7th September 2006
This Shelsley Mill post first appeared on a personal blog on 7th September 2006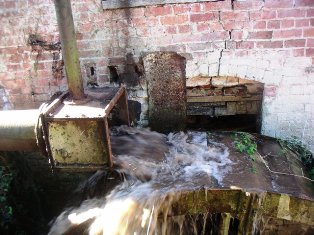 Another day at the mill. There were six of us today, enough to make some good progress.
We are now able to divert water from the feeder stream into the headstock and can test the plumbing. Just looking at the pipework and working out the probable flow rate is not the same as seeing water flow. And how it flows! The layer of silt in the bottom of the tailrace was yards downstream in a matter of seconds.
We had made sure that the wheel would not turn before we opened the gate valve because the whole end bearing is missing and has been for nearly 50 years. There is a bearing at the other end of the wheel shaft, so we know what we have to make. Nothing complicated, fortunately.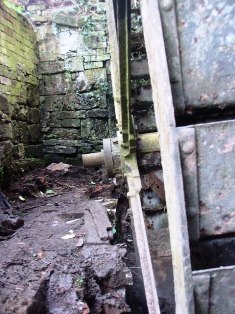 How to rebuild the plinth supporting the outer bearing is a bit more complicated though. Now we have cleared a lot of mud away we can see how decayed the old brickwork is. To knock out the old brickwork and build it back up with good bricks is the only thing to do. Trouble is, the wheel is in the way and we can't move the wheel because the bearing is missing. It's going to be a fiddly job for our only member with bricklaying experience, but I'm sure we will all stand by and offer encouragement.
The coming weekend will see the hill-climb in active use and the Mill Society is hoping to gain some publicity (and donations) from the spectators. It will be a while yet before we can offer tours of a working mill, but a start has been made.

Go to the next entry by clicking here.

Look for other Shelsley Mill Blog posts.

Leave the Shelsey Mill Blog and return Home