Shelsley Mill - 31st August 2006
This Shelsley Mill post first appeared on a personal blog on 31th August 2006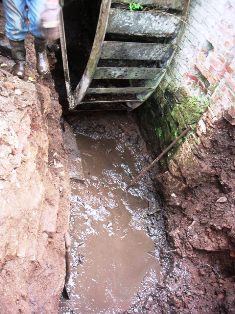 Take four gentlemen of retirement age, four buckets and spades and a wheelbarrow and stand back.
An eyeball estimate of the spoil-heap from today's efforts suggests that we moved about 1 1/2 tons of wet clay soil out of the bottom of the tailrace along with uncounted bricks.
We seem to have found the upstream edge of the original race in a very tumbledown state, nothing like as well preserved as the opposite side, but more or less parallel. The bottom of the race has yet to be defined and we are not sure what form it took. It could have been stone flags, brickwork or even bare clay, but we are just hoping that we will recognize it when we get there.
If the wheel is going to turn efficiently it should not be standing in water so there is still some way down still to go, which brings us to the next problem. The tailrace joins a culvert that contains the overflow stream from the mill-pool but the bed of the stream has silted up to level with our latest excavations. We are going to have to deepen the stream inside the culvert and further downstream to clear the tailrace. A job best done before the weather turns cold!


Go to the next entry by clicking here.

Look for other Shelsley Mill Blog posts.

Leave the Shelsey Mill Blog and return Home