Picking teeth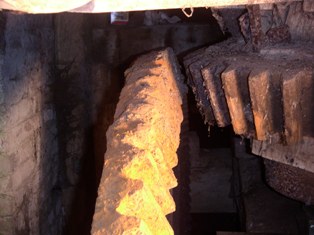 Colin and Richard spent part of Thursday morning picking teeth. Not their own of course, but the teeth on the pit gear wheel that had been buried in silt for years.
In the photo most of the teeth have already been roughly cleared out, but you can still see the sort of thing that we found. The clay-like silt hid bits of brick and stone and had to be chipped out with hammer and chisel. We are so glad it was only a couple of dozen teeth that needed this treatment.
Colin went on to show Headley his idea for securing the bottom bearing of the centre-post and much measuring and discussion followed. Meanwhile work continued on the tailrace cover. Martyn and Derek had started to build the entrance arch by the time I left at lunchtime. We have a supply of authentic bricks to use on this feature, so it should look good when it is done.
John spent the morning dodging raindrops and re-building walls. He must dream about bricks when he gets home. Very few of the external walls are square and true and he is getting good at laying bricks "on the skew" to bring them back into line.
As I spent all morning inside the mill, I'm not sure what Max did but there were shouts of "More mortar please, Max" so I assume that he kept the bricklayers supplied.
Colin, Max and Richard all left the mill at lunchtime to other commitments and left the others to their various tasks.

Go to the next entry by clicking here.

Go to previous item

Leave the Shelsey Mill Blog and return Home